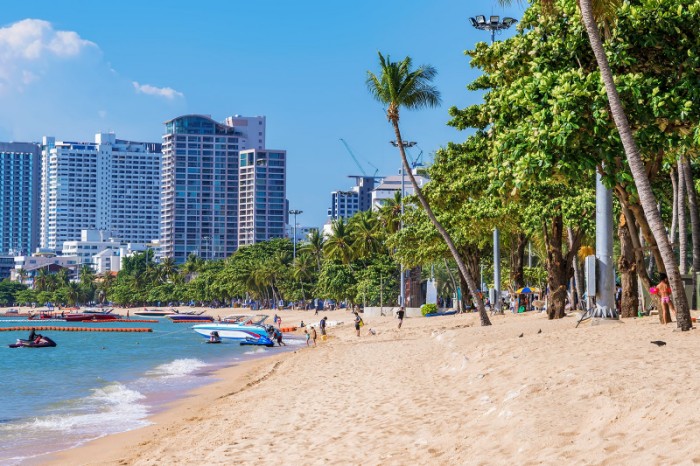 Pattaya is a Thai city flush with beaches and nightlife and very popular as an expatriate destination. Ao Pattaya is a wide bay that divides the city into the upmarket northern area and the entertainment hub to the south. Ko Samae San, a tiny island with beaches and snorkeling activities for marine life enthusiasts. The type of short and long-term lodging accommodations you will find in Pattaya (beyond hotels) will include motels, short/long-term apartments, hostels, vacation rentals, serviced apartments, furnished monthly stays, extended stays, rooms for rent, villas, bungalows.
There is an array to select from since it is an area with a tropical climate year-round providing it with a lot of tourism business. A visual listing showing available Pattaya rooms and budget apartments from Rent Buy Thailand is at this link. HotelPlanner website at this link is another useful information source of a range of accommodations and prices available, as well as weather trends, best value options, and popular attractions to take in.
There are 833,321 mobile open Wi-Fi networks in Thailand, according to free Wi-Fi application Wiman. With regard to finding Internet wifi, Pattaya is known as the Thai city with the second largest cluster of free public wifi hotspots. Wifi Map can serve as just one source to turn to to learn of Pattaya's wifi hotspot connections around the city. An increasing number of independent cafes and restaurants in Pattaya providing free WiFi hotspots can be found on the map WiFiCafeSpots. One paid option recommended when looking to connect to top quality wifi hotspots in Pattaya is buying or renting a pocket Wi-Fi device. These are compact devices that can fit in a pants pocket that converts 3G and 4G signals into a private and secure WiFi connection. Nomadic Boys' website offers an ordering and setup guide, as does XoXoWiFi.
Workcation resources of particular interest to travelers have been added to the Google map as round lavender markers with a white star inset. Although they will only be a limited sample of what is fully available. Make sure to search fully if your needs go beyond what is shown on the Google map for other options.
Find remote work resources on your workcation trip to Pattaya, Thailand
View the Google map of Paris below to locate remote work resources during your stay in the area. Starting from the city center you will find essential remote work resources and lodging to have a productive workcation in Pattaya. Emphasis is placed on workcation resources, highlighted by the white star within the purple dot, that include:
Coworking and office space
Transportation hubs
FedEx shipping and office resources
Various research libraries
Post Office branches
The Google Map on the page has been customized to show you remote work resources that include coworking spaces, public transportation stations, Federal Express shipping, and office services, libraries for research and reading, and government postal locations. The commercial and business categories included on the map by the purple dots are not exhaustive, so users are encouraged to enter search terms in the map search box to bring up additional locations. In addition, you can use the map to search for lodging accommodations, restaurants, cafes, grocery stores, and any other commercial service that is not included in the customized category.
You have been reading
Workcation travel to Pattaya Thailand