Google Feud is a quiz-style game where you have to guess the top 10 most common queries based on a partial search phrase. There are four categories; culture, people, names, and questions. Each category has a different set of search strings that you must guess correctly.
Google Feud is a game based on the popular trivia game show television series 'Family Feud' which began in 1976 that pitted families in a competition to name the most popular answers to survey questions in order to win cash and prizes. To begin to play you would pick one of the categories and try to answer the given question. Similar to 'Family Feud' you would be allowed three incorrect guesses. But Google Feud instead uses the Google search auto-complete that appears whenever someone starts typing into the search box of google.com in their browser.
Autocomplete predictions reflect real searches that have been done on Google, and among other things, trending interest in a query by users on Google. What then appears in the search box of the Google Search Engine is an automated list of the most popular keyword phrases related to what you have just typed in that people are also searching for across the globe. Make sure to view the video walkthrough below for more clarity and tips to arrive at Google Feud answers.
Make sure to click the Google Feud image below to begin gameplay in a separate window.
Play Google Feud free and online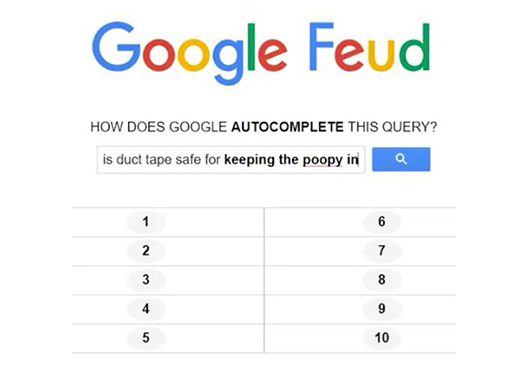 Learn to play Google Feud or get tips, tricks, cheats from the video walkthrough
You have been reading
Play Google Feud free online game and view the walkthrough video guide for tips and tricks