With Bouncing Band from oio Studios, augmented reality is used to engage any space where AR objects turn into musical instruments. Manipulate the sound characters that float down your handset screen as an AR implementation and into an improvised orchestra to create music and beats.
The Google experiment runs from a regular website in your Android browser supporting WebXR Chrome Android, without requiring additional downloads or applications to install. Learn to control the bouncing AR objects into rhythmic beats. Launch the website from your Android device, scan the floor and other surfaces with your camera, then tap to drop some bouncing characters. Each figure plays a different musical sample giving you the opportunity to explore the tonal range
oio Studios operates from a small lab in East London to create practical products and "wild technological experiments." They will build physical or digital working experimental prototypes through their team of designers and engineers to bring forth concepts and ideas. Bouncing Band can only be viewed on Android handsets at this time.
Create an improvised band or orchestra using Augmented Reality with Bouncing Band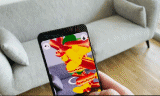 This Web XR experiment provides another way in which augmented reality examples are taking shape on the interactive landscape. Augmented reality glasses or headsets are not needed to view this exhibit, but you could find out more about them at this link. Please keep in mind this currently works only for the android platform.
View a video walkthrough for Bouncing Band
You have been reading
AR Android app Bouncing Band is a fun way to create an improvised orchestra