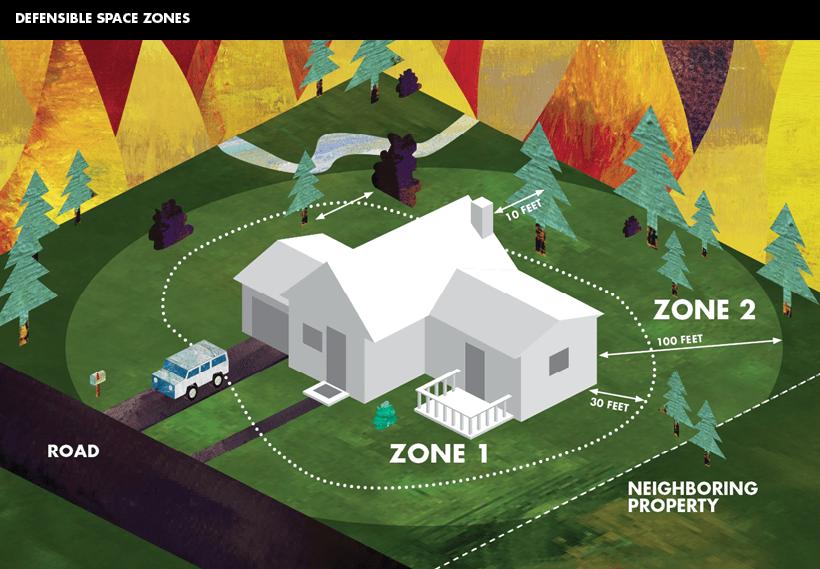 In August 2016, California's Blue Cut Fire, which started in the Cajon Pass (view the California fire map above), about 13 miles northwest of San Bernardino. The area of focus was reported to be near Kenwood Avenue west of Interstate 15. It spread devastation quickly from a combination of high winds, high temperatures and low humidity in what has been noted as California's fifth year of drought, and the area was declared a state of emergency by (then) Governor Jerry Brown.
By August 20, 2016, the Blue Cut Fire had burned through more than 37,020 acres. Officials of the San Bernardino National Forest Service and the California Department of Forestry and Fire Protection, which is known as Calfire were keen to note that "explosive fires like this were becoming more common," implying new measures are needed for safety and prevention. Actually, there are several initiatives in place addressing the need to preemptively approach
fire prevention in the state of California
.
And burning along with the Blue Cut fire, in various stages of containment, there was also the Clayton fire near Clear Lake, Chimney fire in San Luis Obispo and Rey fire in Los Padres National Forest. California has dry, windy, and often hot weather conditions from late spring through autumn that can produce moderate to devastating wildfires.
There is also known to be a distinction between two different ecosystems: the mountain forests and the lower elevation chaparral, oak woodlands, and grasslands, and the way they contribute to the fire problem. A fuller explanation of the two ecosystems goes a long way to providing a history of the region's vegetation and how they became prone to frequent fire damage.
Aside from particular ecosystems and how their conditions contribute to the start of California wildfires, the fires are made worse from strong, dry winds, known as Diablo winds in the northern part of the state and Santa Ana Winds to the south. And the California fire problem is considered to be growing more dangerous and more costly to U.S. taxpayers over time. There are a number of fire safety and prevention organizations that operate within the state that are able to able to outline the preventive measures needed to battle the growing frequency and ferocity that seem to be growing over time.
CAL FIRE
The California Department of Forestry and Fire Protection (CDF, or CAL FIRE) is the State of California's agency responsible for fire protection. It is often called the California Department of Forestry, which was the name of the department before the 1990s. CAL FIRE's mission is to prevent fires. The department's Fire Prevention Program consists of multiple activities including wildland pre-fire engineering, vegetation management, fire planning, education and law enforcement. The picture at the top is linked to
Cal Fire's "Prepare for Wildfire" strategy page
.
Common projects include fire break construction and other fire fuel reduction activities that lessen the risk of wildfire to communities. It also administers the State Responsibility Area Fire Prevention Fund (SRAFPF) and Tree Mortality (TM) Grant Program has $15.75 million available for projects that focus on supporting local efforts to remove dead and dying trees that pose a threat to public health and safety and for projects that reduce the wildfire threat to habitable structures within State Responsibility Areas (SRA). Contact Cal Fire at information listed below:
CALFIRE Sacramento Headquarters (Main)
1416 Ninth Street, PO Box 944246
Sacramento, California 94244-2460
Phone: 916-653-5123; Fax: 916-653-4171
Email: This email address is being protected from spambots. You need JavaScript enabled to view it.
California Fire Chiefs Association
CalChiefs is a large and diverse professional association whose vision is to be the voice of the California Fire Service. California Fire Chiefs Association eight (8) professional Sections are: Administrative Fire Services, Communications, Emergency Medical Services, Emergency Management, Fire Mechanics, Fire Prevention Officers, Operations, Training Officers. CalChiefs Sections cover the spectrum of fire and EMS delivery and a full range of topic specific expertise. Contact information for CalChiefs follows:
California Fire Chiefs Association
1851 Heritage Lane, Suite 138
Sacramento, California 95815
Phone: 916-923-9455; Fax: 916-923-9477
Email: This email address is being protected from spambots. You need JavaScript enabled to view it.
Fire Districts Association of California (FDAC)
As a non-profit organization, FDAC's primary function is to provide its members with programs, services, and classes to help the districts they serve and their personnel and representatives become more successful and effective. The mission of the Fire Districts Association of California is to provide legislative advocacy, educational information, member services, and informational resources and to promote special districts that perform fire protection services. It serves its members with programs, services, and classes to help the districts they serve and their personnel and representatives become more successful and effective. An especially important function of the FDAC is to provide its members with representation and advocacy in California's legislature. Contact details for FDAC follows:
Fire Districts Association of California (FDAC)
700 R Street, Suite #200
Sacramento, California 95811
Phone: 800-829-4309; 916-231-2941 Fax: 916-231-2141
_______________________________
Southern California Fire Flared Up at 5 Acres. A Day Later, It Covered 30,000, by Ciaran McEvoy and Jess Bidgood (The New York Times, August 17, 2016)
http://www.nytimes.com/2016/08/17/us/california-fire-san-bernardino-blue-cut.html?_r=0
'We got our butts kicked,' firefighters say as Blue Cut fire defies containment, by Angel Jennings, Bettina Boxall and Paloma Esquivel (Los Angeles Times, August 20, 2016)
Ecological Society of America. "History of fire and drought shapes the ecology of California,
past
and future." ScienceDaily. ScienceDaily, August 6, 2014. http://www.sciencedaily.com/releases/2014/08/140806173838.htm
California Department of Forestry and Fire Protection (Wikipedia), modified on August 12, 2016
https://en.wikipedia.org/wiki/California_Department_of_Forestry_and_Fire_Protection
California Department of Forestry and Fire Protection (CAL FIRE) - Fire Prevention page (website)
http://calfire.ca.gov/fire_prevention/fire_prevention
Fire Districts Association of California (website)
California Fire Chiefs Association (website)
You have been reading
With California fire incidents rising, fire department, other institutions focus on fire prevention strategy