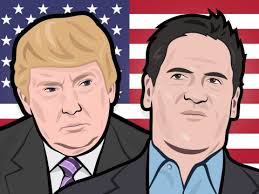 In mid-September of 2016, in the midst of the intense struggle of the year's presidential election cycle, tech billionaire Mark Cuban called out real estate billionaire and Republican nominee to the presidency, Donald Trump, to take part in a one-on-one debate for Trump to provide detailed responses to Cuban's questions about his economic policy proposals. The challenge from Cuban stemmed from Trump's response to a Fox Business interview a week earlier between Cuban and host Neil Cavuto in which Cuban stated, "In the event Donald wins, I have no doubt in my mind the market tanks."
Trump had a chance to respond while being interviewed by Fox's Maria Bartiromo where he replied, "Well, I know Mark and you know, the problem with Mark, he is not smart enough to understand what we are doing. He's really not smart enough, in my opinion, to really understand what's going on. I've known him for a long time. He tweets me all the time." In Mark Cuban's issued challenge to Donald Trump, he even offered to make a $10 million charitable contribution to a charity of Trump's choice (Trump is known to have outstanding pledges to various charities). Terms of the check disbursement were later changed by Cuban to permit Trump to keep the money rather than give it to charity.
Of course, besides Mark Cuban, Donald Trump is known for dissing other celebrities and famous names in sometimes nasty public spats over the years.
Trump slammed actress Anne Hathaway for ditching then boyfriend and Trump Tower resident Raffaello Follieri in June 2008.
with Rihanna in February 2011 after Rihanna canceled a performance at Trump's private club in Florida at the last minute
with Khloe Kardashian in April 2009 while Kardashian was on Celebrity Apprentice and was fired from the show for a past DUI arrest unrelated to the show
with mother of Lindsay Lohan - Dina Lohan - after Trump advised the younger Lohan in May 2011: "Find what you love doing (other than drugs and alcohol), work hard, stay focused, get a new set of parents..."
with former colleague Martha Stewart in February 2005 when Stewart's own version of The Apprentice failed and she endured a publicly revealed humiliation from him on it
with actor Charlie Sheen in March 2011 when he warned the parents of Brooke Mueller not to let their daughter marry Sheen, while also calling him "a great waste of a talent."
with veteran newsman Dan Rather in September 2007 when he commented on Rather's performance saying: "Dan Rather's a loser. Dan Rather had low ratings for years. I used to say, whoever represents Rather does a great job because he always was in third place..."
with Rosie O'Donnell in December 2006 when she referred to him as a "pimp" and a "snake-oil salesman" for giving Miss USA, Tara Conner, a second chance after enduring a public scandal and he responded that Rosie was a "big, fat pig" and a "loser."
But both Trump and Cuban are animated, brash and bombastic billionaires, and they have feuded with each other for quite some time. Though it is difficult to pinpoint exactly when and over what circumstances the feud sprouted to life from, one version of the story has it that it began when the real estate mogul called Cuban's "The Benefactor" television show a blatant copycat of the "The Apprentice." It escalated when Cuban claimed he could write a bigger check, based on his cash flow rather than net worth than Trump could. Trump, Cuban said, threatened to sue him. "I have no debt," Cuban told Playboy. "I told my lawyer, 'Let's pray to God he does sue,' because how much fun would that be? He would have to disclose everything. It was 'I'll show you mine, you show me yours.' But he never pursued it."
Following below is a quick glimpse at their business holdings and focus on the types of industries the two billionaires are involved with.
Mark Cuban holdings
Mark Cuban's business ventures appear to be concentrated in the sports, digital tech, and entertainment sectors. Here is a rundown of some of the more prominent business ventures, with valuations omitted. It is a cherry-picked selection of some Mark Cuban business ventures.
Dallas Mavericks - purchased a majority stake in the NBA's Dallas Mavericks for $285 million from H. Ross Perot, Jr. in 2000
Shark Tank - investor on the ABC reality program Shark Tank since season three in 2012.
Magnolia Pictures - formed under media group 2929 Entertainment (film production, film distribution, theatrical exhibition, home entertainment, television) in 2003
Landmark Theatres - a chain of 58 arthouse movie theaters purchased in 2003 (2929 Entertainment)
Upstart Network Inc. - allows a client to raise capital in exchange for a small portion of a client's future income.
IceRocket - blog search engine launched in 2004
Bailoutsleuth.com - portal for oversight over the U.S. government's $700 billion "bailout" of financial institutions
Professional Futsal League - Cuban purchased a principal ownership stake in
Synergy Sports Technology - a web-based basketball scouting and video delivery tool used by NBA teams
Donald Trump holdings
The Trump Organization is a privately owned international conglomerate that serves as the principal holding company for Donald Trump's business ventures and investments. The operation has interests in real estate development, investing, brokerage, sales and marketing, and property management. Through an array of arrangements, and in varying degrees of involvement, the company owns, operates, invests, and develops residential real estate, hotels, resorts, residential towers, and golf courses in different countries, as well as owning prime Manhattan real estate. With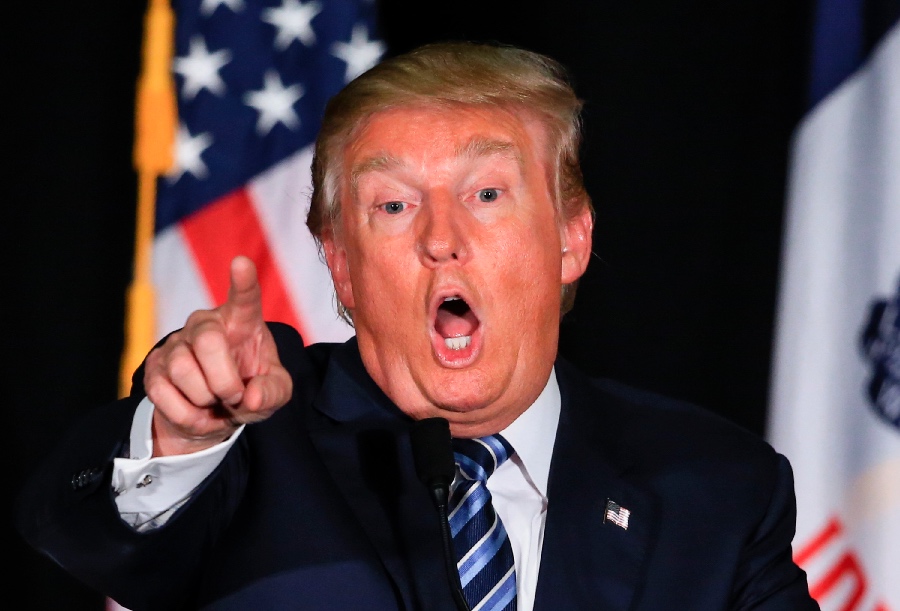 regard to the real estate sector, many developers pay Donald Trump to market their properties and be the public face for their projects. For that reason, Trump does not own many of the buildings that display his name. A financial market investment portfolio is an active part of the holdings, as a portion of Trump's wealth is concentrated in the financial and commodities markets, and this investment portfolio generates income and cash flow from a variety of mechanisms as dividends, capital gains, and compounded carried interest.
Though too numerous to categorize for this article, listed below are some of the more prominent business dealings of The Trump Organization, with valuations omitted. So here is a cherry-picked assortment of the many varied Trump Organization ventures.
Trump Tower - the headquarters of the Trump Organization is a mixed-use tower at 725 Fifth Avenue in NYC
Trump golf courses - golf courses in the United States, Scotland and Dubai
The Trump Building - Trump bought and renovated this building at 40 Wall Street for $1 million in 1995
Trump Winery - Virginia winery situated on Trump Vineyard Estates in Charlottesville, VA
Trump Entertainment Resorts - The Trump branded casino resorts include the Trump Taj Mahal, Trump Plaza now controlled by billionaire Carl Icahn
Trump Park Avenue - Trump owns 23 apartments in this building at Park Avenue and 59th Street, providing rental income
Mar-a-Lago Palm Beach - a private club
Central Park Carousel - A merry-go-round carousel located in Central Park, Manhattan managed by Trump
Trump Productions - a television production company
The Fragrance, SUCCESS by Donald Trump - a second fragrance launched by the Trump Organization and the Five Star Fragrance Company, released in March 2012
Trump Ice - a line of bottled water
_______________________________
SOURCES:
Mark Cuban Is Offering Donald Trump $10 Million. There's a Catch By Katie Reilly (Time; September 16, 2016)
http://time.com/4497748/donald-trump-mark-cuban-interview-challenge/
Mark Cuban Offers Donald Trump $10 Million to Do One-on-One Interview with Him. By Laura Tucker (allmediany.com; September 21, 2016)
http://www.allmediany.com/articles/46195-mark-cuban-offers-donald-trump-10-million-to-do-one-on-one-interview-with-him
Mark Cuban Companies (website)
http://markcubancompanies.com/
The Trump Organization (website)
http://www.trump.com/
Mark Cuban (Wikipedia, the free encyclopedia)
https://en.wikipedia.org/wiki/Mark_Cuban
The Trump Organization (Wikipedia, the free encyclopedia)
https://en.wikipedia.org/wiki/The_Trump_Organization
Trump's 10 Best Celebrity Feuds And Whether They'll Be Seeking Revenge. By Matt Schneider (Media ITE, April 14, 2011)
http://www.mediaite.com/tv/trumps-10-best-celebrity-feuds-and-whether-theyll-be-seeking-revenge/#0
Page 2: And the winner is... Mark Cuban! By Greg Garber (ESPN.com, undated)
http://www.espn.com/espn/page2/story?page=garber/060303
You have been reading
Mark Cuban vs. Donald Trump: their feuds, their business ventures