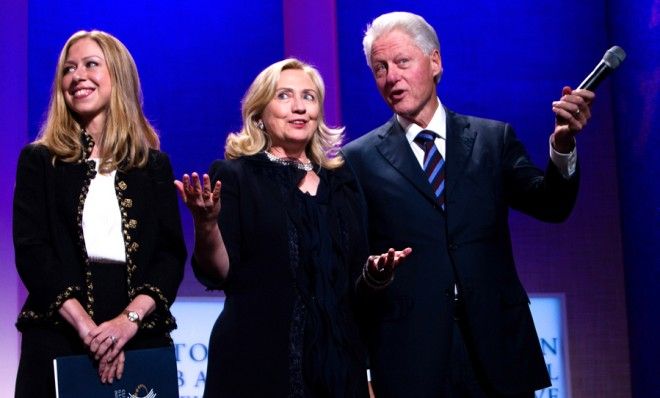 After departing the White House at the end of Bill Clinton's term, January 2001, Bill and Hillary Clinton launched not one but two charitable foundations. The first was the (then named) William J. Clinton Foundation, whose mission was to impact issues of global significance. The other was the smaller and certainly more low profile Clinton Family Foundation, an outlet Bill and Hillary Clinton would enlist for their own private charitable contributions.
While the larger Clinton Foundation grew to become a very high profile, and sometimes controversial, multibillion-dollar operation, directing its resources toward consensus global areas of need and even hosting an annual summit, the family foundation has remained a below-the-radar outlet for the Clinton couple and their daughter, Chelsea, to donate to charities they personally support.
The 2016 Democratic National Committee nomination of Hillary Clinton to campaign for and lead the party's quest for the presidency also drew scrutiny toward the Clinton's charitable operations. Hillary Clinton lost the November 9, 2016 general election to Donald Trump.
How a foundation works
A foundation is a non-governmental entity that is established as a nonprofit corporation or a charitable trust, with the purpose of making grants to unrelated organizations, institutions, or individuals for scientific, educational, cultural, religious, or other charitable purposes. There are generally two foundation types: private foundations and grantmaking public charities. A private foundation funds itself with money from a family, individual, or a corporation. In contrast, a grantmaking public charity (also referred to as a "public foundation") draws on funding from diverse sources, usually foundations, individuals, general public and government agencies.
In execution of its objective, a foundation will channel grant money to requesting or deserving organizations on the front lines of providing care and administering to those in need. But The Clinton Foundation operates to identify an area of particular need and then acts as the public charity that is hands on with many of its programs. The Clintons also have a traditional private foundation, the Clinton Family Foundation.
Private foundations receive the majority of their money from only one individual, family or corporation. This differs from the public charities. Public charities have a broad-base of support from the general public as well as a variety of other funding sources. The IRS requires that private foundations file a Form 990-PF which differs from the document public charities file, which could be a Form 990 or 990-EZ.
Profile of The Clinton Foundation
The Clinton Foundation -- also known as The Bill, Hillary and Chelsea Clinton Foundation -- is a public charity that operates its own humanitarian programs around the world. For example, it runs a farming project in Tanzania and has expanded access to lower-cost HIV/AIDS drugs. The foundation works to strengthen the capacity of governments and individuals to alleviate poverty, improve global health, strengthen economies, and protect the environment. The Clinton Foundation taps into businesses, governments, NGOs, and individuals to improve global health and wellness, increase opportunity for women and girls, reduce childhood obesity, create economic opportunity and growth, and help communities address the effects of climate change.
Serving a global population it operates five main initiative areas: Alliance for a Healthier Generation Initiative, Clinton Climate Initiative (CCI), Clinton Economic Opportunity Initiative (CEO), Clinton Giustra Enterprise Partnership, and annual conference, Clinton Global Initiative (CGI). The governing body (from data last updated as of July 2016) of the Clinton Foundation (all locations) includes: Maura Pally, Acting C.E.O; Andrew Kessel, C.F.O. and Director; Stephanie S. Streett, Exec. Dir.; Terrence McAuliffe, Director; Chelsea Clinton, Director. It generates an annual report. There is a main office for the foundation, in Manhattan, New York, but there are also offices in Boston, Massachusetts, Chicago, Illinois and another NYC office in lower Manhattan, New York.
Here are some vital aspects of The Clinton Foundation for 2014:
* Type of Grantmaker: Public Charity
* Assets: $354,190,170
* Gifts received: $172,579,474
* Expenditures: $91,281,145
* Total giving (grants): $5,160,385
* Involvement areas: Climate change, energy resources, environment, health, nutrition, sustainable development
* Geographic Focus: national and international
* Application Information: Considers only pre-selected organizations; no unsolicited requests for funds
* BRIDGE Number: 1855950983
* EIN: 311580204
Profile of the Clinton Family Foundation
Clinton Family Foundation is a private foundation. There are actually two locations for the family foundation: the family compound in Chappaqua, New York, and also Salinas, California. The governing body (from data last updated as of July 2016) of the family foundation, Chappaqua, New York, includes: William Jefferson Clinton, President, Hillary Rodham Clinton, Secretary/Treasurer, Chelsea V. Clinton, Director. The governing body listed at the Salinas, CA location includes several more bodies, including: Nina Clancy, Director, Catherine Massey, Director, Joann Westerling, Director, Susan Aguirre, Director, Dennis Clinton, Director Bradley Clinton, Director, Catherine Hillman, Treasurer, Erlinda Valdez, Secty, Gloria Clinton, CEO, Manager. The family foundation receives money only from the Clintons themselves. The foundation has no website and usually doesn't issue a press release related to giving.
Here are some vital aspects of the Clinton Family Foundation for 2014:
* Type of Grantmaker: Independent Foundation
* Assets: $5,314,540
* Gifts received: $3,000,000
* Expenditures: $3,782,788
* Total giving (grants): $3,767,000
* Involvement areas: Arts and culture, Democracy and civil society development, Diseases and conditions, Foundations, health, higher education, Human services, Protestantism
* Geographic Focus: Arkansas, District of Columbia, New York, Salinas, CA
* Application Information: Contributes only to pre-selected organizations. Application form not required.
* BRIDGE Number: 5822708139/7121019270 (Salinas/Chappaqua)
* EIN: 300048438
You can view the embedded video that gives a brief introduction (2:22 mins) on what and how The Bill, Hillary and Chelsea Clinton Foundation goes about its philanthropic mission.
Contact information for Clinton Foundation offices
The Bill, Hillary and Chelsea Clinton Foundation (formerly William J. Clinton Foundation)
1271 Avenue of the Americas, 42nd Floor
New York, NY, 10020
Phone: 212-348-8882
Email: This email address is being protected from spambots. You need JavaScript enabled to view it.
The Bill, Hillary and Chelsea Clinton Foundation
77 Water Street
New York, NY 10005-4401
Phone: 646-775-9175
Website: www.clintonfoundation.org
The Bill, Hillary and Chelsea Clinton Foundation
383 Dorchester Avenue, Suite 400
Boston, Massachusetts 02127-2422
Phone: 617-774-0110
Email:
contact form
;
This email address is being protected from spambots. You need JavaScript enabled to view it.
The Bill, Hillary and Chelsea Clinton Foundation
111 S. Wacker Drive, Suite 4000
Chicago, Illinois 60606-4309
Phone: 501-748-0456
Clinton Family Foundation
PO Box 937
Chappaqua, New York 10514-0937
Phone: 212-918-3000
Email: n/a
Website: n/a
Clinton Family Foundation
29 Santa Ana Drive
Salinas, California 93901-4135
Phone: 831-422-5794
Email: n/a
Website: n/a
_______________________________
Wall Street Journal Confuses Clinton Charities. By Michael Wyland (NPQ - Nonprofit Quarterly; August 6, 2015)
https://nonprofitquarterly.org/2015/08/06/wall-street-journal-confuses-clinton-charities/
The Other Clinton Foundation: A Look at Bill and Hillary's Personal Philanthropy. By David Callahan and Ade Adeniji (InsidePhilanthropy.com; July 29, 2016)
http://www.insidephilanthropy.com/home/2016/7/29/the-other-clinton-foundation-a-look-at-bill-and-hillarys-per.html
Foundation Directory Online (subscription database website)
http://fconline.foundationcenter.org
The Clinton Foundation You've Never Heard Of. By Patricia Murphy (The Daily Beast; September 14, 2016)
http://www.thedailybeast.com/articles/2016/09/14/the-clinton-foundation-you-ve-never-heard-of.html
The Clinton Foundation (website)
https://www.clintonfoundation.org
Charity Navigator: Your Guide to Intelligent Giving (website)
https://www.charitynavigator.org/index.cfm?bay=search.profile&ein=300048438
96 Percent Of Hillary's Charitable Donations In 2015 Went To Clinton Foundation. By Chuck Ross (The Daily Call; August 12, 2016)
http://dailycaller.com/2016/08/12/96-percent-of-hillarys-charitable-donations-in-2015-went-to-clinton-foundation/
Democrat pundit: The Clintons 'take no salary,' get 'no personal benefit' from
foundation
. By Lauren Carroll (PunditFact @ politifact.com; September 1, 2016)
http://www.politifact.com/punditfact/statements/2016/sep/01/hilary-rosen/democrat-pundit-clintons-get-no-personal-benefit-f/
You have been reading
Contrasting The Clinton Foundation and Clinton Family Foundation