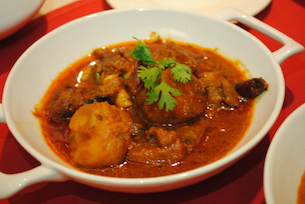 There is a period in colonial history from 1858 to 1947 when the British Empire maintained rule over India. This was known as the British Raj, or also known as the Crown rule in India. By 1880, a new middle class had arisen in India and among other aspects from the infusion of a new culture, a new Indian food category derived from Anglo and Indian food recipes, developed as the resident British housewives interacted with their Indian cooks. In a British run household, the "Memsahib's cooking" was a hybrid style that evolved when the British "Lady of the House" asked her Indian household cooks to prepare traditional British dishes.
Author, Utsa Ray, in her well-researched book, 'Culinary Culture in Colonial India: A Cosmopolitan Platter and the Middle-Class,' examines new culinary experiences as a result of colonial modernity among the colonial middle class in Bengal. Ray reviews a range of topics including the early formation of the Anglo-Indian culinary tendencies in an excerpt that follows:
"In her recent work on the culture of food in colonial Asia, Cecilia Leong-Salobir has argued that the cooks working in British households in colonial Asia did much more than just menial work. These cooks were actually responsible for the purchase of food for the Anglo-Indians and thus contributed hugely to the emergence of colonial cuisine by bringing in changes in the diet of the British. However, in a middle-class Bengali household a cook did not wield any such power even unwittingly. Middle-class Bengali women had to be more active in her kitchen."
Anglo-Indian cuisine – "one of the world's first fusion cuisines"
From these beginnings, 'Anglo-Indian cuisine' – blending European cooking techniques and recipes with local spices, ingredients and methods – took shape and eventually made their way from the Indian sub-continent to the supper clubs of 'Old Bombay,' from the 1910's through the 1940's, that came to be known as the "old Raj." Over time, some of the well-known Anglo-Indian dishes would include chutneys, salted beef tongue, kedgeree, ball curry, fish rissoles, and mulligatawny soup.
In New York City, Bombay Bistros, at 31 Cornelia Street, in Manhattan's Greenwich Village neighborhood, is such an Anglo-Indian styled Indian restaurant. Bombay Bistros is a slightly smaller space than its elder sibling, The Drunken Munkey at 338 East 92 Street, higher up on Manhattan's East Side. Bombay Bistros sports a narrow and cozy interior, with seating that is firm and cushiony to ease back onto and relax.
At The Drunken Munkey, menu selection recaptures "Old Bombay," with selections like "Railway Chicken Curry," "Classic Punjabi Tandoori Chicken," "Malabar Coastal Shrimp Curry," "Goan Pork Vindalu," "Butter Paneer Tikka Masala," and other colonial specialties harkening back to a previous era of Indian dining.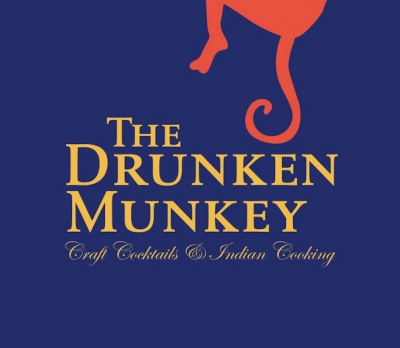 Occupying the same space as the Mario Batali Italian restaurant, Po, that closed its doors in 2017, Bombay Bistro has an all-day dining menu that is served until the late hours. It will include an extensive selection of appetizers and shared plates. You can expect a selection of Paneer Tikka, Crispy Okra, Jumbo Tandoori Prawns, Crispy Aloo Tikki, Tandoor Grilled Lamb Chops, Braised Yorkshire Short Ribs – all served with appropriate choices of sides. The bar will offer full dining options in addition to shared plates on a separate bar menu. A rotating list of daily specials will complement in-house dining.
But beyond the Anglo-Indian cuisine offered, the Bombay Bistros (similar to The Drunken Munkey) also excels in artisanal cocktail offerings. In a departure from other fine dining restaurants, it really goes out of its way to make the art of the craft cocktail a centerpiece of its offerings. Highlighting the dining room and semi-open kitchen, the full-service cocktail bar offers classic artisanal cocktails, forming the heart of the 'East India Cocktail Program'. Expect to indulge yourself with Aviation Cocktail, Classic Champagne Cocktail, Dark and Stormy, Old Fashioned, Pimm's No 1 Cup, Singapore Sling, and other favorites.
A variety of these specialized cocktails are prepared using proper mixing techniques, incorporating fresh juices, tinctures, bitters, etc. The bar will carry rum and whiskey selections including select Indian distillations, as well as aperitifs, fine wines and champagnes, satisfying ports, digestifs and a limited but quality selection of craft style beer. Bombay Bistros only adds onto the success of it's elder sibling, The Drunken Munkey, as well as the connected international chain of fine liquor and cigar lounges, Bar and Books. It is a destination to strongly consider for cocktails or dining.
There is an Anglo-Indian Association -- formerly titled The All India Anglo-Indian Association -- that was founded in 1876 and currently headquartered in New Delhi. The All India Anglo-Indian Association is a top level association representing the Anglo-Indian community in India and comprising approximately seventy-odd branches across the country. It is a direct descendent of the Eurasian and Anglo-Indian Association founded on December 16, 1876. The objects of the association are charitable, educational and cultural. There is also a culinary section of the association listing at least some of the more popular recipes that have been derived from the conjoining of the two cultures. The Association has published a lengthy web page listing of Anglo-Indian food recipes, along with an informative video that can be viewed below.
View a brief documentary video from GoMoreFilms titled "Anglo-Indian Cuisine."
Royal Recipes used to prepare Queen Victoria's Favorite Lavish Indian Dishes
Readers of this article will by now be familiar with The Drunken Munkey and Bombay Bistros Indian Cuisine as restaurants serving Indian food specializing in colonial specialities. Besides these two restaurants, you can come across other Indian restaurants serving these unique Indian food recipes. In the following brief listing, here are some other Indian restaurants found in Manhattan that you can consider as well.
Find fine Indian cuisine dining in New York City
A Saffron Thread
98 Chambers Street, New York, New York 10007
Phone: 212-676-0313
Indian and Indian-Chinese cuisine in Tribeca.
Email: This email address is being protected from spambots. You need JavaScript enabled to view it.
www.asaffronthread.com
Bombay Bistros Indian Cuisine
31 Cornelia Street, New York, NY 10014
Phone: 646-850-3719
Featured in the above Anglo-Indian dining description.
Email: This email address is being protected from spambots. You need JavaScript enabled to view it.
www.bombaybistros.com
Chola Indian Restaurant
232 East 58 Street, New York, New York 10022
Phone: 212-688-4619
Focusing on flavors derived from the 8,000 miles of Indian coastline, and seaside delicacies.
Email: This email address is being protected from spambots. You need JavaScript enabled to view it.
www.cholany.com
The Drunken Munkey
338 East 92 Street, New York, New York 10128
Phone: 877-368-6539
Colonial-era vibe and craft cocktails as explained in detail in the article above.
Email: This email address is being protected from spambots. You need JavaScript enabled to view it.
www.drunkenmunkey.com
Ghandi Cafe
283 Bleecker Street, New York, New York 10014
Phone: 212-645-1456
Anglo-Indian cooking style served in a train car space with chandeliers and red velvet wallpaper.
Email: n/a
www.ghandicafe.org
GupShup
115 East 18 Street, New York, New York 10003
Phone: 212-518-7313
GupShup means 'chitchat' or "hanging out". GupShup restaurant and cocktail bar is intended to capture the energy and spirit of Bombay.
Email: link to contact form
www.gupshupnyc.com
Indian Accent
123 West 56 Street, New York, New York 10019
Phone: 212-842-8070
Located in Le Parker Meridien Hotel in Midtown, the restaurant is a branch of an original in New Delhi. Uses local ingredients like pastrami, and surprising dishes using ingredients like foie gras and black truffles.
The Kati Roll Company
229 East 53 Street, New York, New York 10022
Phone: 212-888-1700
Specializing in the street food of Mumbai, Kati Roll mainly furnishes fillings of vegetables, eggs, and kebabs rolled up in a roti, with onions and chutneys, made spicy or not at your direction.
Email:
link to contact form
www.thekatirollcompany.com
Malai Marke Indian Cuisine
318 East Sixth Street, New York, New York 10003
Phone: 212-777-7729
Traditional Indian dishes such as chicken tikka masala and Saag Paneer in a stylish dining room.
Email: This email address is being protected from spambots. You need JavaScript enabled to view it.
www.malaimarke.com
Mint Masala Indian Cuisine (formerly Mirch Masala)
95 Macdougal Street, New York, New York 10012
Phone: 212-777-2888
Dinner, Gluten-Free, Halal, Healthy, Indian, Lunch Specials, Pakistani, Vegan, Vegetarian.
Email: Order through Seamless
www.mirchmasalanewyork.net
Saravanaa Bhavan
81 Lexington Avenue, New York, New York 10016
Phone: 212-679-0204
The menu of this international restaurant focuses on the strictly vegetarian dishes of South India like the Adai Aviyal, a dish often made in Kerala.
Email: This email address is being protected from spambots. You need JavaScript enabled to view it.
www.saravanaabhavan.us
Surya
154 Bleecker Street, New York, New York 10012
Phone: 212-875-1405
Traditional-Modern fusion. Contemporary Indian spot with a wide-ranging menu, craft cocktails.
Email: This email address is being protected from spambots. You need JavaScript enabled to view it.
www.suryanyc.com
Tamarind Tribeca
99 Hudson Street, New York, New York 10013
Phone: 212-775-9000
Indian Cuisine with a contemporary touch. Known earlier as the Tamarind Restaurant in the Flatiron section of Manhattan and the recipient of a Michelin star.
Email: This email address is being protected from spambots. You need JavaScript enabled to view it.
www.tamarindtribeca.com
Vatan
409 Third Avenue, New York, New York 10016
Phone: 212-689-5666
A vegetarian Gujarati meal is the focus of Vatan. To make the meal more enjoyable, the entire premises is made to look like an Indian Village.
Email: Use contact form (https://vatanny.com/contact-us/)
www.vatanny.com

_______________________________
SOURCES:
The Royal Munkey (website)
http://www.royalmunkey.com
Demise of Anglo-Indian cuisine - BBC News report by Howard Johnson (YouTube video)
https://youtu.be/bR_2FTLd-9A
Anglo-Indian cuisine (Wikipedia, the free encyclopedia)
https://en.wikipedia.org/wiki/Anglo-Indian_cuisine
The Drunken Munkey (website)
http://www.drunkenmunkeynyc.com
Utsa Ray (2015) Culinary Culture in Colonial India: A Cosmopolitan Platter and the Middle-Class. Cambridge University Press, P 125. ISBN 10: 110704281X / ISBN 13: 9781107042810
Anglo Indian Association (website)
http://www.aiadanapur.org/
British Raj (Wikipedia, the free encyclopedia)
https://en.wikipedia.org/wiki/British_Raj
Anglo-Indian Cuisine (YouTube video)
https://youtu.be/GKlhOt_NdqY
You have been reading
Old Bombay to NYC – Indian food and the Anglo-Indian dining experience